WeDigBio t-minus 24 hours – and a recap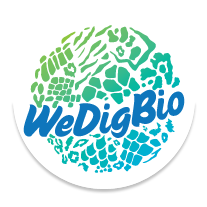 In 2015, we launched our first WeDigBio event back when Notes from Nature was still on version 1.  Back then it was a real challenge launching new expeditions, but we managed the awesome "Crab Shack" expedition from Los Angeles County Museum of Natural History.  After we transitioned to Notes from Nature 2.0, we had an amazing turn out for WeDigBio in 2016.  On our best day, we had 3,279 transcriptions and, over the four-day event , over 11,000 total transcriptions and – at the time – a record 23 active expeditions. 
If 2016 was awesome, 2017 blew us totally away.  Instead of falling back to Earth, we had 8395 transcription IN ONE DAY – still a record!  NfN had over 20 expeditions active during the event with over 19,000 transcriptions completed over the four-day event!
Here we are in 2018, just one day before launch.  How will we do this year?  How much can we support the global effort to digitize our irreplaceable biodiversity legacy?  Please consider even pitching in one transcription.   Each note you take helps make an impact.